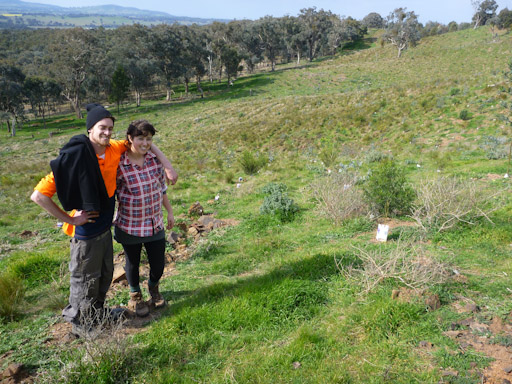 our annual bird surveys are on again!
Saturday 12th - Sunday 13th October 2013
Are you interested in putting your bird-watching prowess to good use by helping us increase our understanding of threatened woodland birds? And are you keen to see birds nesting in revegetation which is less than 10 years old?
If you are an experienced bird observer, who will be able to collect accurate records of bird species in each site, why not come along and help us search the Lurg Hills region?.
Keen amateurs are also welcome to come and learn the higher skills from a good birder.
For more information, please check our flyer for contact details, maps and a list of things to bring!
Where: Old Lurg School, Lurg (9.5 kms along Lurg-Winton Rd, on right hand side)
When: Arrive anytime after 5.00pm Friday 11th October, or Saturday morning as early as possible (by 7:30am at the latest). We will pack-up and head for home Sunday lunchtime (or earlier if you need to)
planting weekends - 2013
Greetings from the Regent Honeyeater team.
Our 2013 planting season is already in the planning stages, with another 25 habitat sites being restored for threatened species like the Regent Honeyeater, Grey-crowned Babbler, Squirrel Glider and Brush-tailed Phascogale.
You may like to set the above dates aside in your calendar, and start planning to bring a group of friends for a great weekend in the beautiful Lurg Hills.
And to help generate more interest, I'm happy to come and give pictorial presentations to your group. I think you'll be fascinated to hear about the complex ecological issues we are tackling, and surprised by the amazing results from 18 years of concentrated effort in this one district!
• Free: Accommodation, Community dinner, BBQ, Bush dance.
• Further details: Where to meet, timings, what to bring etc. See the accompanying flyer .
• Booking in: Please let us know you are coming so we can arrange the catering.
Looking forward to hearing from you.
For more information grab the planting weekend flyer here
What is this?
The Regent Honeyeater Project has established itself as one of the most active volunteer conservation projects in the nation.
It has engaged a whole farming community in restoring remnant box-ironbark habitat for the endangered species still living in the district, and attracted ongoing support from a wide cross section of the community to help farmers with the on-ground works.
Propagation and planting days are organised each year for a thousand students from more than 20 local schools and hundreds of volunteers from universities, walking clubs, church groups, bird observers, scouts, environment groups and the like.
A range of other activities such as nest box placement and monitoring provide crucial habitat for rare mammals as well as valuable motivational experiences for visiting groups.
The massive scale of our tree-planting work has enormous benefits for landcare as well as for wildlife.
Almost 900 hectares of restored habitat is reducing salinity and erosion problems, and improving water quality, stock shelter and natural pest control.
It really is a demonstration of the changes needed for ecologically sustainable development.
There is a lot of good news to share about our joint achievements in the past, and the big plans we have for the coming year.