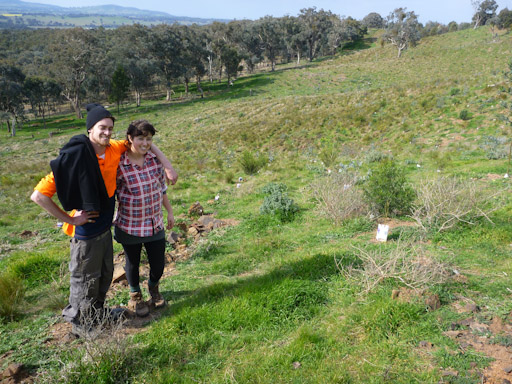 2014 Nest box data analysis
We spend all this time looking into nest boxes, but what does it tell us?
Well, have a look at this! The 2014 nest box data analysis, with charts and graphs and everything!
2015 activities!
We're just starting up this year's habitat restoration work, and thought it might be good to send out dates for our 2015 activities. I know this is especially important for clubs and groups to organise their own calendars.
The nest box weekends are:
Mar 21/22 Apr 18/19 May 16/17
The planting weekends are:
Aug 1/2 Aug 15/16 Aug 29/30 Sept 12/13 Sept 26/27
The attached flyers (nest boxing and planting) give further details if you wish to post them on your regular social media contacts or group's calendar.
For more detail for those wishing to attend, including accommodation, meeting times and what to bring, there are also detailed nest boxing and planting documents available.
Hoping to see you all soon...
Ray Thomas
New Gallery
We also have a new basic gallery up with a snapshot of what has been happening with the project over the years.
There is plenty of room for more!
What is this?
The Regent Honeyeater Project has established itself as one of the most active volunteer conservation projects in the nation.
It has engaged a whole farming community in restoring remnant box-ironbark habitat for the endangered species still living in the district, and attracted ongoing support from a wide cross section of the community to help farmers with the on-ground works.
Propagation and planting days are organised each year for a thousand students from more than 20 local schools and hundreds of volunteers from universities, walking clubs, church groups, bird observers, scouts, environment groups and the like.
A range of other activities such as nest box placement and monitoring provide crucial habitat for rare mammals as well as valuable motivational experiences for visiting groups.
The massive scale of our tree-planting work has enormous benefits for landcare as well as for wildlife.
Almost 900 hectares of restored habitat is reducing salinity and erosion problems, and improving water quality, stock shelter and natural pest control.
It really is a demonstration of the changes needed for ecologically sustainable development.
There is a lot of good news to share about our joint achievements in the past, and the big plans we have for the coming year.