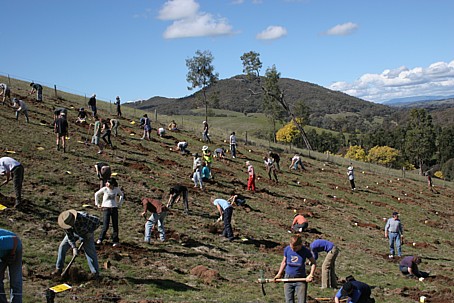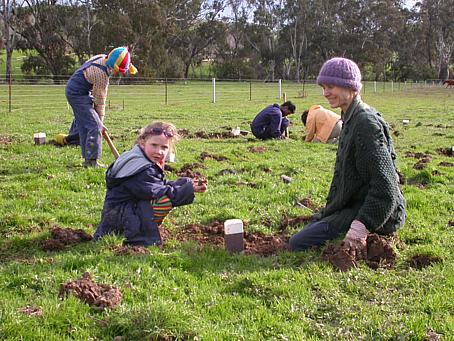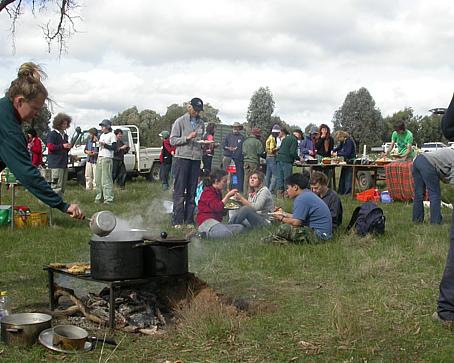 Over the first half of the year we made a lot of progress with seed collection, propagation, nest box repairs, and community involvement. We have big plans for this year, so read on!
meeting and contact details
Meet at the Benalla Ceramic Mural by the lake at 9:00AM on the Saturday of each planting weekend before heading out towards the Lurg Hills.
Secondary meeting point at Winton Roadhouse at 9:00AM (directly opposite the Winton Raceway). Let us know that you are coming so that we can make catering and accommodation arrangements. Call Andie on (03) 5761 1515 or email here.

getting there

Benalla is about 2½ hours drive from Melbourne. Simply head up the Hume Highway towards Sydney. Some people drive up after work on Friday and stay the night, others get up early on Saturday morning instead. Please yourself.

what to bring

A picnic lunch for Saturday, be prepared to organise your own Sunday breakfast. (Or slip down to the bakery: great coffee and eats.)
Gardening gloves and sensible clothing (hat, sunscreen, wet weather gear just in case). A change of clothes can save you driving home in muddy gear. Tools are provided but you can bring your own if you prefer.
Bedding if you are sleeping in the Scout Hall. A bar of soap and a towel is handy.
accommodation

Most people bed down in the Scout Hall. Mattresses are provided, bring your own sleeping bag and pillow.
There are two halls, the young and energetic bush dance in the Scout Hall till all hours, the Guide Hall is a designated quiet area where you can get your head down as early as you like. Some people pitch a tent on the grass near the halls instead, or camp in the bush outside town.
If you prefer a little luxury, Benalla also has a good range of commercial accomodation.
meals

We provide an excellent three-course meal on Saturday night (an evening not to be missed), a barbeque lunch on Sunday, plus hot drinks for morning and afternoon teas. Bring your own picnic lunch for Saturday, and something for breakfast on Sunday.
program
Every planting weekend takes on its own flavour, but the general arrangement works like this:
saturday

9:00AM. The main party meets at the Benalla Ceramic Mural by the lake.
9:30AM. Pick up more volunteers at the Winton Roadhouse.
Arrive on-site: plant till lunchtime, breaking for morning tea along the way.
Lunch: bring your own picnic lunch; hot drinks provided.
Plant till about 5:00PM, breaking for afternoon tea.
Return to Benalla. Hot showers are available at the indoor pool complex (gold coin donation).
7:00PM. Dinner. Join the team for an excellent three course meal provided by the locals.
9:00PM. As you please: there is a bush dance for the terminally energetic; a nocturnal mammal spotlighting trip for those still keen; or an early night and lots of sleep for the tired ones.

sunday

Meet at the time and place arranged the night before, usually around 9:00 or 9:30, and travel to the site. Plant till lunch time, breaking for morning tea. 1:00. The locals lay on a barbeque. Depending on weather, Ray usually takes us on a tour of one of the district's most interesting wild places. After that, set off for home.