what is it all about?
Why look after native plants and animals of the Lurg Hills?
The Lurg Hills near Benalla, Victoria, have been substantially cleared for farming and timber getting over the last 150 years. This has seen a predictable reduction of many native plant and animal populations, with an on-going decline of many species to the point of near-extinction. Amazingly, a lot of species have hung on within the small remnant habitat areas dotted across the landscape, including threatened birds and mammals such as the Regent Honeyeater, Grey-crowned Babbler, Squirrel Glider and Brush-tailed Phascogale.
But these rare species are often in very low numbers, which makes them vulnerable to any slight changes to their habitat patch. If we want to see the continued existence of these rarer species in the local landscape, then we need to provide the best opportunities within a farming context, which includes quality and variety of habitats, and a network of links to these habitats.
Why fencing and revegetation?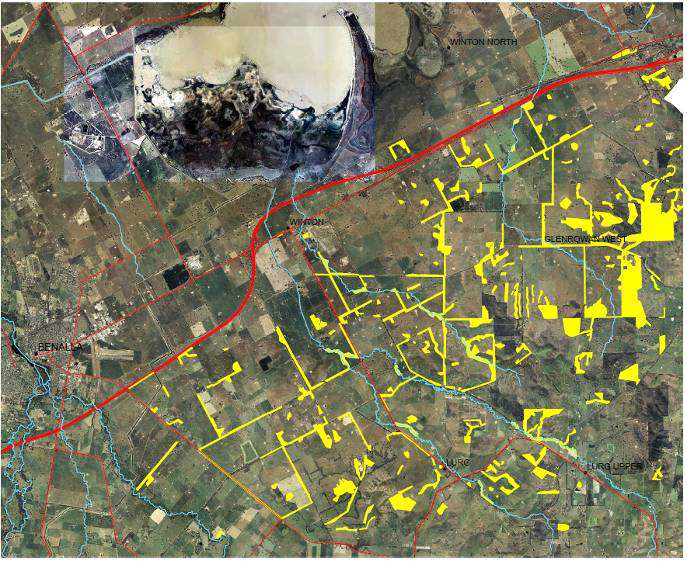 The network of restoration works in the Regent Honeyeater Project area - 2005 to 2011.
The Regent Honeyeater Project works exclusively in the Lurg Hills which is a complex mosaic of natural habitats and productive agricultural areas spread across a landscape of steep hills, valleys and waterways. The main aim is to protect, restore and connect all the significant remnants of native habitat in the district - while we still have them!! This means working to inspire people about the value of local plants and animals, and supporting landholders to look after the remaining habitat on their private farmland.
Unfortunately, most of the remnants have little or no understorey, and the trees are frequently in poor health, so they need more than just fencing. All of our projects aim to restore the key biological processes that underpin healthy environments, and most importantly, their resilience in the face of further changes in the landscape or climate.
And even the pockets of relatively healthy habitat have their problems Ė they are often isolated in the landscape, and this has seriously impeded the ability of native animals and plants to move around and get established in new territories. But 18 years of work to link up these habitat areas is already rebuilding a connected landscape and giving us the best possible chance of restoring natural ecological balances within a farming context. Corridors or "stepping-stones" as young as 4 years have helped many of our threatened birds and mammals to find vital resources such as food, shelter, and new breeding partners.
See map on right, showing the network of our ca 460 restoration sites across the landscape.
Why support local landholders?
Our Project understands the pressures of family and community commitments that confront regional landholders, as well as the financial constraints of modern living. Most people generally want to do the "right thing" for conservation, but in many cases they are unable to find the time and resources to bring about the changes on their own. And thatís precisely where our Project has made such a difference. By having the flexibility to work around the needs of individual landholders, we can provide support for fencing and planting through a mix of incentive grants, manual labour and technical advice as needed.
The extra help available has made it possible to engage almost every family in the district! Over 120 local landholders and about 27,000 volunteers have joined together to tackle the massive amount of onground work. Our restoration activities go beyond planting as well, to include mistletoe removal from seriously infested trees, environmental weeding, feral animal control, kangaroo reduction, nest box placement, and systematic monitoring of a range of threatened or declining woodland birds.
Signs of success - dramatic improvements for wildlife
Over 17 years of sustained effort with local landholders and volunteers, almost 500,000 seedlings have been planted and 1300ha of habitat restored or created. Detailed surveys by ourselves and visiting researchers are now showing an increase in fauna populations in many parts of the Lurg Hills.
The corridors and "stepping stone" sites restored to date have substantially benefitted the local populations of Grey-crowned Babblers. These birds have now been observed in 35-40 of our revegetated sites, and the population has risen sharply from around 50 birds to almost 120 - in only 8 years!
The corridor plantings have also benefited local populations of Sugar Gliders, Squirrel Gliders and Brush-tailed Phascogales. Annual community nest box surveys have demonstrated a seasonal movement of gliders as they move out of the dry hills and down to the wetter creeks and fertile valleys every summer. Without these corridors, Gliders would be restricted to the dry hill tops or forced to traverse bare paddocks, both of which are critical threats to wildlife survival. Confirming this point, we've found unlinked remnant patches to be empty of Gliders because the animals havenít had the ability to recolonise, whereas linked areas are frequently occupied only 4-6 years after corridors are planted!
Systematic bird surveys of more than 150 sites over the past 7 years, have found a total of 146 bird species in the district, which is one of the highest tallies of any farming landscape in SE Australia! The total includes 16 on the "threatened woodland bird" list, many actually nesting in our restoration sites.